At LEKS Law, we know you have endless choices when it comes to choosing legal representation. We pride ourselves on not only providing superior work product but also on building long lasting relationships, having clear communication channels and maintaining transparent billing practices with our clients. Our services focus on assisting companies with venture financing deals, complex sales transactions and reorganizations, and joint venture arrangements. Whether a company is just starting off or is well established, we can assist with a variety of business matters including formation of their company, employment matters, intellectual property matters, and dissolutions and winding up of company affairs. Our top priority is ensuring that our clients feel not only satisfied but are truly happy with the services we provide.

Mergers and Acquisitions
Corporate Law
Corporate Governance
Private Equity and Venture Financing
Intellectual Property and Data Privacy
LEKS Law has experience representing both buyers and sellers, whether companies or individuals, entering into relatively small and simple stock or asset purchase deals to complex cross-border reverse mergers. In conjunction with such transactions, we bring to the table multi-faceted experience in the mergers and acquisition field. Not only do we handle the core aspects of the merger or acquisition beginning with the letter of intent through post-close matters, but we also ensure that any and all tax, financial, employment and intellectual property issues that may accompany the transaction are concurrently addressed and properly made an integral part of the corporate deal at hand.
LEKS Law assists its clients with company formations, dissolution, and internal reorganization, both on a domestic and international level. We assist our clients with changing its capital structure, departing equity holders, and corporate cleanup in preparation for transaction or investment due diligence. We draft, review and negotiate a wide range of contracts on behalf of our clients in various industries including finance, services, manufacturing, and cannabis spaces. We prepare stock options plans, stock option agreements and general advise on employee equity compensation structures that are in line with company goals. 
LEKS Law advises companies on all elements of internal corporate law, including board of director and shareholder meeting procedure, director and officer responsibilities and shareholder rights, corporate policies, and rules of conduct. We are available for the occasional question or can be there every step of the way to provide ongoing support and guidance. LEKS Law ensures timely filings of all federal, state and local reporting requirements and can ensure that all corporate formalities are complied with and kept up to date and in an organized fashion.
LEKS Law counsels its clients throughout the life cycle of their investment activities, from the seed financing stage through to various rounds of venture capital investments, with an eye towards an ultimate exit strategy to bring profitability both for the company and its investors. Our goal is to guide our clients on their growth path and to assist them in the timely and comprehensive execution of all financing documentation.
Almost every business transaction includes intellectual property considerations and LEKS Law can assist the client in protecting the ownership of that intellectual property, drafting comprehensive collaboration paperwork for strategic alliances, or documenting the transfer of that intellectual property through licensing and transfer agreements. We also assist our clients with registering trademarks in the U.S. and ensuring that any trademarks that are filed abroad are also properly registered in the U.S. We have extensive experience with drafting website privacy policies and ensuring that companies abide by data privacy laws.
Katya A. Mezek
–
MANAGING ATTORNEY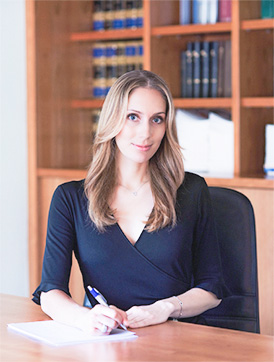 Areas of Expertise
Experience
Education
Admissions
Memberships
Mergers & Acquisitions
Corporate Law
Corporate Governance
Private Equity and Venture Financing
Ms. Mezek is the founder and owner of LEKS Law and assists businesses with the initial formation phase, financing needs, various capital raise rounds, and ultimately with any mergers, acquisitions and other business reorganizations. Ms. Mezek also works with foreign companies that are looking to expand their operations to the U.S. Utilizing a broad network of professionals in the accounting, banking and immigration fields, she can help ensure a smooth transition to an otherwise potentially daunting market.
Ms. Mezek has worked with companies ranging from startups to multi-million dollar revenue companies in various industries including industrial product manufacturers (e.g. gasket sheets and LED light bulbs), software companies, consumer goods manufacturers (e.g. hands-free dog leashes and organic feminine hygiene products), as well as companies in the service industry (e.g. restaurants, yoga studios, and insurance providers).
In addition to being an attorney, Ms. Mezek also holds a degree in Finance and is thus able to understand and appreciate the financial and business nuances of any transaction and ensures that these concerns are successfully intertwined with the legal documentation.
Prior to starting her own firm, Ms. Mezek worked as in-house counsel for Goodyear Tire Company in Slovenia where her legal team was responsible for the corporate needs of 15 Central and South Eastern European countries. In addition, she has worked for law firms in Los Angeles and San Francisco Bay Area. With this broad range of experience, Ms. Mezek understands what her clients' needs are and prides herself on ensuring that they receive the support and results that they expect.
JD, University of California, Los Angeles (2009)
BS in Finance, California State University, Long Beach (2006), summa cum laude
Central District Court of California
Northern District Court of California
Ninth Circuit Court of Appeals
Central District Bankruptcy Court
All State Courts of California
State Bar of California
American Bar Association
UCLA Alumni Association
CSULB Alumni Association
American Chamber of Commerce in Slovenia (AmCham)
You are invited to write a message in the space provided or please call LEKS Law at the phone number below. We look forward to connecting with you.
(818) 259-3311
5201 Great America Pkwy., Suite 320

   

Santa Clara, CA 95054